Vocabulary Video Challenge
School students in India are invited to create a short video to teach or help understand any of the words that we have featured in our Word of the Day column in last few years. The submission dates are from 1st December 2022 to 8th January 2023.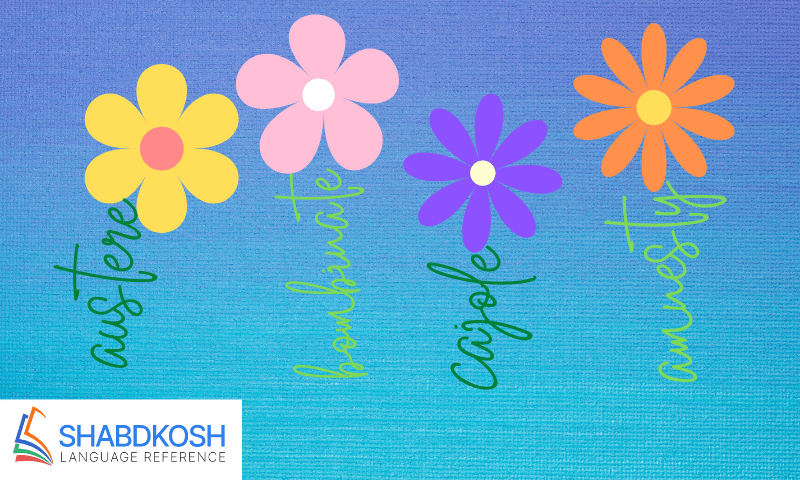 The Vocabulary Video Challenge is our latest initiative with the aim to improve the knowledge of words and vocabulary among school students. This challenge will encourage students to learn new words, apply creativity, and have some fun.
If you would like to participate, here are the rules:
The contest is open to students who are in grades 8 to 12 and between 13 and 19 years of age. Students below grade 8, or beyond grade 12 are ineligible.
The students must be enrolled in a school in India.
Choose any word from our list of Words of the Day for past few years.
Create a 15-seconds long video that defines, teaches, and explains the word you have selected. The video can be shorter but not longer than 15 seconds.
The video should be in MP4 format and must be uploaded via our submission process.
The video must have spoken pronunciation of the word, its definition, and the part of speech (like noun, verb, adjective).
Submit your video during the submission period.
If any background sounds, sound effects, or audio from another source is used, the source must be mentioned and the audio or sound must not violate any copyright.
Please use this Submission Form for your entries.
---
Teachers, Parents, and School Administrators
Here is a one page flyer that you can post on your classroom or school bulletin board.
---
Rules of the Vocabulary Video Challenge
Here are the rules that apply to this competition.
Choose your word

The word must be selected from the Words of the Day PDF document.

Individual, partner or a team

You can work with other students as a group, but you cannot submit the same video multiple times, or individually. It must be submitted as a group.

Length of the video

The length of the video should not be more than 15 seconds, and it must be in landscape format Please ensure that the video is not longer than permitted.

Video Quality

Prepare a video with the word spoken clearly, defined, along with the part of speech. Remember to follow this rule as your video may be disqualified otherwise. The video must be in the language of the word used, that is, English.

Appropriate content

The video should be appropriate for students and other viewers who are in similar age as the participating students.

The video should help the viewer understand the word and learn it.

You can act it out, animate using computer software, use puppets, make a drawing, sing a song, dance, or apply other creative approaches. Videos can be created using mobile phone, or video camera, or using computer software such as Power Point, iMovie, Clips, Adobe Premiere, or any other suitable video creation or editing software.

Submission

The video and the team details can be uploaded through the submission form. Only one entry per student can be submitted. If you work as a group, only one entry can be submitted for all members of the group.

Copyrighted material

The video should not contain any copyrighted material - pictures, music, sound, sound effects, images etc. If you use any non-copyright material, it is necessary to provide the reference and give credit to the original source. You can use sources such as FreeSound.

Original work

The video should be your own original work and not a composition of other videos, or made by someone else.

Deadline

All entries must be submitted by 8th January 2023, at 11:59PM Indian Standard Time via the submission form. It is best to avoid last minute submission.

Evaluation Criteria

Please review the evaluation criteria document.

Prizes and recognition

Your video will be watched and evaluated by a panel of judges. The prizes for top entries will be awarded as Amazon India gift certificates. The winning and other qualifying entries will get featured on SHABDKOSH website and our social media channels including Instagram, Twitter, Facebook, and LinkedIn.
The best video will be awarded gift card of Rs.3000
The second best video will be awarded gift card of Rs.2000
The third best video will be awarded gift card of Rs.1500.
There will be seven awards of gift cards of Rs.500 each for commendable effort.
Disputes

In case of any dispute, the decision of the SHABDKOSH.COM management will be final.

Further questions

If you have any questions, please send email to feedback@shabdkosh.com.
We look forward to your video entries!
Submit your entries
Please use this Submission Form for your entries.
PS: We got our inspiration to run this challenge from the New York Times - thanks to them!