Capture text from images in multiple languages
Now convert your image files with text into actual text! All you have to do is follow two easy steps, select the image file and upload. Instead of typing, now you can convert images of words, sentences and even paragraphs into an actual text within seconds. You can also download the converted file, modify, edit, save and print.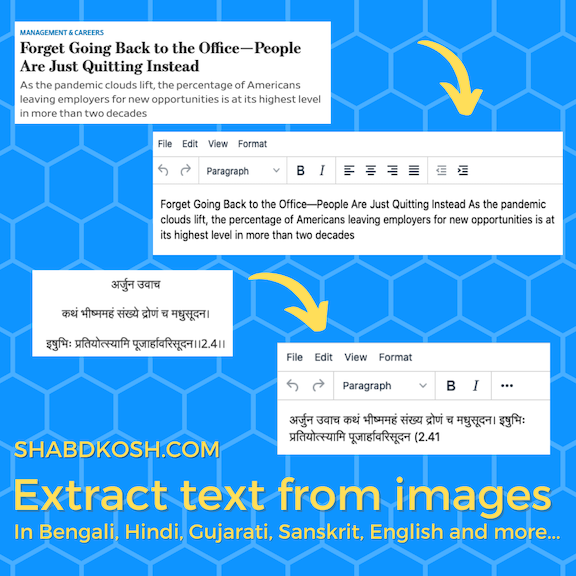 With this new feature it is easier to transform not only English text but also Bengali, Hindi, Gujarati, Kannada, Konkani, Malayalam, Marathi, Punjabi, Sanskrit, Tamil and Telugu. This feature saves time by not having to type the text again, and makes editing quick and easy.
There are few simple steps:
1. Select a file (PDF, JPG, or PNG)
2. Select the language of the text contained in the PDF or the image
3. Upload the file and wait for the processing to complete.
4. You can see a preview and download the text of about half a page for free.
5. For larger text, make the payment of the small amount displayed in the page.
6. Download the file directly, or edit the file in the online editor and save it.
We welcome you to try this feature! For any feedback, or help, please feel free to write to us. And if you like the feature, please do recommend it to your friends and team.