Document and file translation
We have been working on advancing the translation features that we offer to our users. Today, we are delighted to share that you can now translate documents between English and Indian languages. To use it, visit the translation page, upload the document, and within a few seconds, the translated document will be available for download.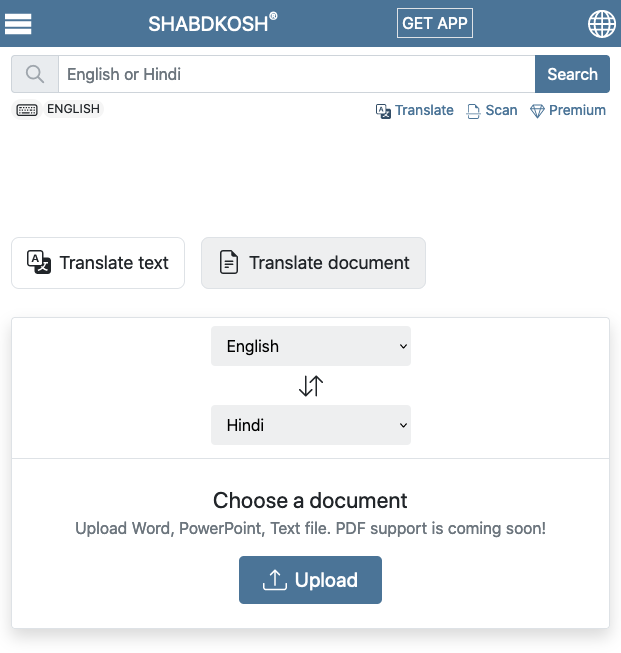 Currently, the document translation supports English and 12 Indian languages.
Supported File Formats for Document Translation
The document translation system can understand the Microsoft Office document formats such as Word and Power Point. It can readily understand text files and translate them. In future, we will also support PDF files for document translation. So, for Power-Point Translation, or for Microsoft Word translation, you can try this new feature!
Document Scanning and Image to Text Conversion
The document translation feature is different from the document scanning feature. In document scanning, the PDF and Image files that have text in them can be processed and we can extract text that is inside the images or PDF files. In document translation, the input file is not a scan, but a regular file that we create by typing or emailing or sharing through messaging apps on the mobile. Any reports or documents in an Indian language and have been created by scanning or by using mobile apps can be converted to regular files. The quality of output is very good, but it also depends upon fonts used, the clarity of the document and the amount of text in it. It is free to convert scanned documents to regular files for small sized documents, but there is a small fee to convert large files to text.
In future, we will expand our offering and continue to make these features easier to use. Please try and let us know if you have any feedback.