World Hindi Day
Greetings to all our users on the occasion of World Hindi Day! We have been serving our users to learn Indian and English language words for last 19 years and hope to keeping doing the same in future!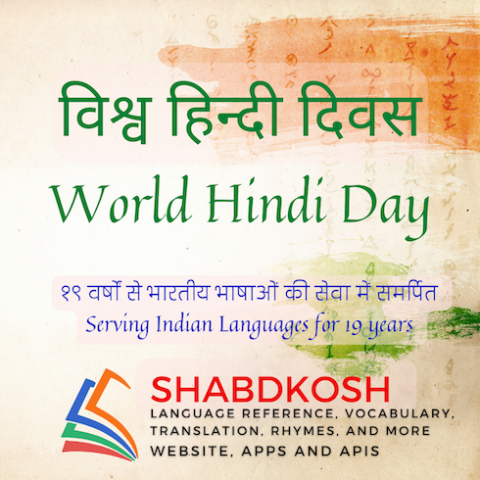 At SHABDKOSH, we believe that it is not just Hindi that we should celebrate, it is all our native languages. With that thought, we have been working tirelessly to bring many new features to you!
Collocations
We have recently created a massive data set of word pairs that often appear together. For numerous such pairs, we now have Indian language equivalents presented on the dictionary results page.
Word-by-Word Translation
Often, our users search long phrases and sentences. We have modified the results page to show Indian language equivalent in a word-by-word manner. We hope that it will be more useful than not providing any results.
Definition Translation
We provide a translation icon next to the English definitions, which can be clicked to see the translated definition. It is powered by our own Neural Machine Translation system that supports English and several Indian languages. This is one of the best machine translation system online that is also available to developers via our language translation API.
Synonyms
We have also started to give synonyms and similar words in Indian languages. These are available alongside the English synonyms on the result page after you search a word.
SHABDKOSH Premium
Some of our features require extensive engineering effort. So, to help support these features, please subscribe to get full benefits of all premium facilities available in our language portal.
Thank you for your continued support. We look forward to continue to serve you.