Basic conversation skills (for Hindi learners)
Learn Hindi with the help of these skills. Learn to use the right words and sentences in different situations.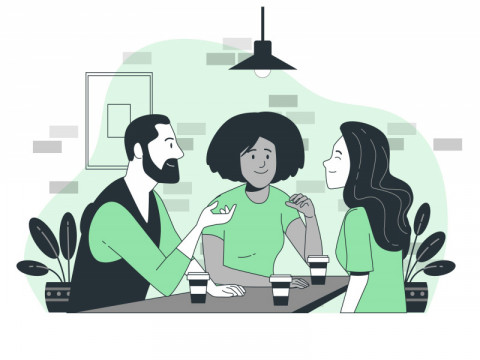 If you are starting to learn a new language, the best way to learn more is by trying to have basic conversations with people around you. Conversation can be by asking questions, learning how to greet, going out for shopping, travelling, going to the doctor and the list is endless as conversations can take place anywhere and everywhere. It is not always necessary that you find someone next to you who would talk the same language, but whenever you get a chance do not hesitate to start a conversation! Below are some tricks and skills you need to know to better your language.
Asking and answering questions
Knowing how to ask a question is not the only way, you should also know how to answer if someone asks you the same question. If you are a beginner in learning english, you would definitely know that English is not an easy language. There is a lot to learn and everything cannot be learnt in a small time. Learn to ask basic questions like, what is your name (Aapka naam kya hai? (Aap - ka - naam - kiya - hai) आपका नाम क्या है?), how are you (Aap kaise hai? (Aap - kay - say - hey) आप कैसे है?), where do you live, etc. Do not forget to learn answers to all these, like, my name is _______, I'm fine, I live in/on/near ______.
Introducing
Learn to introduce yourself in both formal and in an informal way and use it when you get a chance to do so. This will help you start conversations, understand people, and will help you make new friends.
Using numbers
Now you would wonder, how would I use numbers in conversations, well go out for shopping, ask for the time, ask how much or how many. Also learn how to reply to the people who would ask you the same.
Phone conversations
Try talking on the phone. Learn how to purchase any item, learn to negotiate, learn how to make travel plans over the phone.
Asking for directions
This might seem difficult at first but it gets better only with practice. It is said that travelling to different places makes you learn new things and language is one of the things you learn.
Eating at a restaurant
A restaurant is the best place to learn a language. Also a best place to meet people. The people you meet at a restaurant are the most courteous and respectful people. They will help you, correct you and might also teach you if you are struggling. Ordering the local food and pronouncing it will help you brush your skills and make you talk fluently.
Try to improve your conversation skills with the help of these points.
---
---
---
Explore
Related Articles