English tenses
Knowing English tenses for a beginner is considered important. However, it is not really important for someone who speaks English on a regular basis or if it is a first language. Go through these tenses and try to understand them.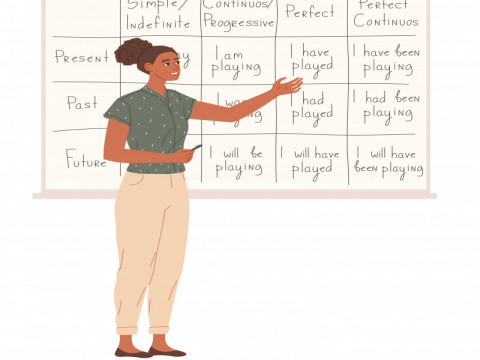 Today we will be showing you the basic English tenses. The three main tenses in English are past, present and future. The past, present and future are divided into four aspects: simple, continuous, perfect and perfect continuous.
SIMPLE TENSE
We will first start with simple tenses as they are the easiest to learn and understand. These are the first tenses you learned in school. Simple tenses refer to a single action and express situations that existed in the past, exist in the present that will exist in the future.
For example:
Simple present: I'm eating
Simple past: I ate
Simple future: I will eat
CONTINUOUS TENSE
We use continuous tenses (also called as progressive tense). These tenses are used to talk about unfinished events.
For example:
Present continuous: I'm eating now.
Past continuous: I was eating.
Future continuous: I will be eating.
PERFECT TENSE
Perfect tenses are the ones that cause most of the confusion in this language. Perfect tenses express the idea that one event happens before another. Perfect tense can be tricky but once you understand the context of it, it can become easy.
For example:
Present perfect: I have eaten.
Past perfect: I had already eaten.
Future perfect: I will have to eat.
PERFECT CONTINUOUS TENSE
A perfect continuous tense generally shows or expresses duration, or "how long?". These tenses use the adverbs like for or since.
For example:
Present perfect continuous: I have been eating since morning.
Past perfect continuous: I had been eating for three hours.
Future perfect continuous: I will have been eating for some time by the time they arrive.
Do not worry if you don't understand in the first go. Read these sentences and try to look for them in whatever you read and then it will slowly become more understanding and easier. Also, keep it simple and don't try to over complicate the sentences using difficult tenses. Some English learners may use difficult tenses to sound impressive but always try to use the simple tenses so that your listeners also understand you.
Native speakers don't really think too much about using tenses. With enough practice and reading, English learners can also internalize the English tenses system and speak fluently.
| | |
| --- | --- |
| internalize | make part of one's nature by learning or to incorporate |
| fluent | able to express effortlessly |
---
---
---
Explore
Related Articles