Vocabulary development with quizzing
Did you know that we have been introducing vocabulary learning features in last few updates of the app as well as our website? It is possible to make personal lists of words that you want to learn, and then, play quizzes on these lists! We also have thousands of words organized in lists that our editors have created - you can try these!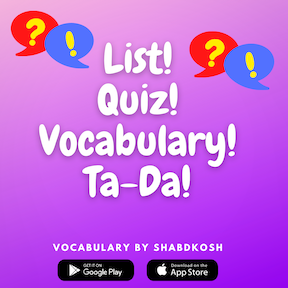 Additionally, we have also started collections of word lists in different languages. These lists are a way to learn vocabulary in other languages. To start, we have word list collections in English, Hindi, Kannada and Marathi. And we continue to develop more.
The lists are organized in subjects, as well as by difficulty of the words. Our vocabulary learning features help you build vocabulary in other languages, one word at a time and helps you learn hundreds of words in the language that you might be hearing around you, or wishing to learn. Here is a way in which you can take a step to learn the common words.
Let us know how you list these features! We are always eager to hear from you.